Princesses: The Six Daughters of George III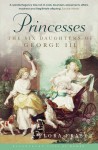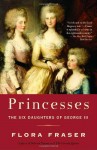 In this sumptuous group portrait of the six daughters of 'Mad' King George III, acclaimed biographer Flora Fraser takes us into the heart of the British Royal family during the tumultuous period of the American and French revolutions.
Drawing on their extraordinary private correspondence, Fraser gives voice to these handsome, accomplished, extremely well-educated women: Princess Royal, the eldest, constantly at odds with her mother; home-loving, family-minded Augusta; plump Elizabeth, a gifted amateur artist; Mary the bland beauty of the family; Sophia, emotional and prone to take refuge in illness; and Amelia, 'the most turbulent and tempestuous of all the princesses.' Never before has the historical searchlight been turned with such sympathy and acuity on George III and his family.
Please ask your local bookshop or bookseller to stock this book. If not available, please order from Amazon.