George & Martha Washington: A Revolutionary Marriage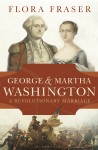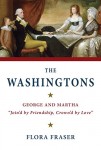 A full-scale portrait of the marriage of George Washington and his redoubtable wife Martha – and of the struggle for American independence that he led.
Here are the socially awkward young soldier and the charming and very rich young widow he wooed and won; the early years of their marriage at Mount Vernon; his inflexible determination and iron will throughout the long war; she, joining him every year in Valley Forge and the army's other winter quarters, essential to his personal well-being but also a commanding and admired figure in her own right; and, finally, the eight years of America's first presidency: he, the reluctant president, and she, the faultless first lady, both longing to return to their beloved Mount Vernon.
Here, too, are the domestic Washingtons–Martha presiding over dinners for foreign dignitaries, keeping careful control of her children and her inheritance; George, even while commanding the revolutionary army, always concerned about her welfare and safety, worrying about his stepchildren, and when the rare occasion arose, dancing the night away with any pretty woman he could find.
Knopf Doubleday, a subsidiary of Penguin Random House USA.
Please ask your local bookshop or bookseller to stock this book. If not available, please order from Amazon.